---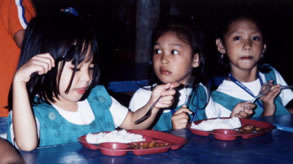 400 BLC STUDENTS AND STAFF RECEIVE FREE, HOT, NUTRITIOUS MEALS TWICE A MONTH

BLESSING "GIVES BIRTH" TO BLESSING!
"Pastor Paul, do you have used clothes for my family?"
"Pastor Paul, do you have used clothes for my family?"
The 2 Filipino mountain missionaries stood in rags before me as they pled their case.
"4 years ago you gave me a horse because there are no roads or good paths in our rural area. I needed a horse to reach people who'd never heard of Jesus, in Paquibato."
The second poor mountain missionary spoke up, translated by Elvie from his Matig-salug language into English. "The horse you gave to my friend was pregnant and when she gave birth, I received the foal. Now we have 2 churches planted in the mountains, due to the use of those horses."
The first missionary added, "Now, praise God that she is expecting again. We hope to plant yet a third church when the newest horse is born. As God provides horses, we provide churches!"
"Our dear mountain missionaries, how thankful we are to God for you! I have prepared a bag of clothes for you already, knowing that you always come the eleven hour trek from the mountains each Christmastime. Enjoy!"
Praise God that you gave to us at Christmas and also for my birthday in November. Our family policy is that whenever we buy new clothing, we choose something in our closet to give to the mountain pastors, so that the closet does not get crowded.
Might you also consider storing a "Missionary bag" of clothes in your attic? Then annually you could sell those clothes at a yard sale and give the proceeds to missions!
---
BLC KID HOTLINE
Your sponsored child at Barner Learning Center would love to hear from you! If you'd like to communicate with him/her by email, please send any messages to:
---