---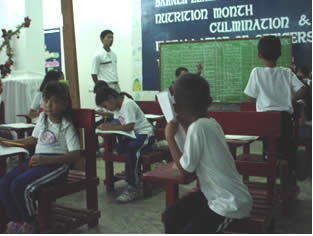 BLC KIDS COMPETE IN A MATH COMPETITION, RATED EASY, AVERAGE, OR DIFFICULT
CHRISTIAN TEAMWORK!
"How do you do it on $20 a month?"
At PJ's Open House at Faith Academy last week, a fellow missionary asked me, "How do you do it all for so little? You are building a school, feeding hundreds of kids, making student bus runs all day long all over Davao City, providing medical assistance for these kids, and educating them as well! Are you subsidized?"
"Well, kinda," I explained. Here is a rundown of where the funds come from:
250 Students Receive Free Schooling at BLC
Friends have spread by word-of-mouth the need for these destitute kids to have an education, and as a result sponsors from 8 different countries are sending their $20 per child to cover uniforms, tuition, books, etc.
400 Students, Staff & Parents are Fed
Each month a church in Vermont has pledged to give $100 for this food program.
Others also give for this "Jericho Lunch Fund"
Emergency Medical Assistance for Children
A few dozen times a year, God touches the hearts of friends from many different locations to give to the Emergency Medical Fund.
We use only the interest on these funds, so there will always be something available for the kids in need.
Daily Bus Runs (4 Busses)
After people gave money so we could buy the busses, a church in Pennsylvania gives monthly for part of our gas expenses, and a friend from New York helps with part of the salary of one of our drivers.
Five Buildings on the BLC Campus
Construction is expensive. Rarely do we receive enough funds to build a building. However, occasionally someone receives an inheritance and gives some to BLC for construction. One woman lost her paycheck, and when she found it, gave it to BLC!