---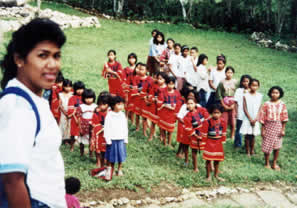 ELVIE JOINS ME ON MY RESEARCH OF A MATIG-SALOG TRIBAL SCHOOL
3 x 5 ALIVE
"BLESS your neighbors!"
On Wednesday night we had prayer meeting. 85 adults and a few kids had gathered at the church, which meets in the BLC gym.
"Choose in your mind ten unsaved neighbors," I challenged those present. "Pray for them 5 minutes a day for 5 weeks. As you pray, focus on 5 needs, which you can remember by the word "BLESS".
The "B" stands for BODY. Pray that they remain physically healthy, and safe from harm. A healthy person can think clearly about the obvious and simple message of salvation that Jesus provided on the cross.
The "L" stands for LABOR. Pray for the unbeliever's workplace, that fellow employees will be believers and will share the Gospel with them. Also pray that their job remain secure. If they happen to work at a casino, bar, or some other center for sin, pray that God provides them with a better job (including better pay) elsewhere.
The "E" stands for EMOTIONS. Pray that your neighbor remains relieved from stress and prone to thinking things through.
The first "S" stands for SOCIAL. Pray that their interaction with family and friends will be strong, especially with you, as you share your faith with them.
The last "S" stands for SPIRITUAL. Pray that they will hear and understand the plan of salvation and pray the sinner's prayer to receive the gift of eternal life. Not only that, but that they join a church and grow daily in their new walk with God.
Heads went down all over the gym as each of us interceded for our neighbors. "There are 6 billion people in the world. If one tenth of them are believers, that means we are an army 600 million strong! If each of us prays for 10 neighbors to be saved, then every human soul on this planet will be covered in prayer! You have heard the phrase, "No child left behind?" Well we say, "No pagan left behind!"