---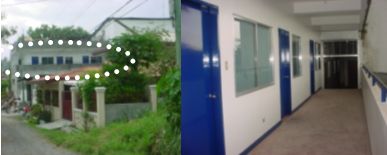 FAR AND CLOSE-UP VIEWS OF BLC'S NEW 2ND FLOOR CLASSROOMS (CIRCLED).
TRAINING LITTLE LIVES FOR THE KING
"…and pray for those you mistreat!"
With the church and school growing exponentially with 50-100 more each year, we are not able to train the new believers fast enough to fill in the teaching slots.
Therefore the pastoral church-planting staff takes turns, alternating in preaching for the adults and teaching children's church. One hundred children watched as I taught them Bible verses this Sunday.
On the blackboard, I had taped Luke 6:27,28. The children were divided into two teams, the "Crosses" and the "Crowns". Since we ran out of chairs, half of them sat on the floor.
Well, maybe sitting is a misnomer, for they were so excited that they kept edging closer and closer to me in the front. Ever have one hundred children moving en masse like a slow moving wave toward you? It is quite the experience!
Crosses were first. To be fair to his classmates, I had our 7 yr old PJ be the judge. He is so very good at Bible verses, that he can memorize them in two minutes. Correctly, they chose the first phrase, "LOVE YOUR ENEMIES…"
Progressively, we made our way through the verses, right up until the last line. Danrice, a muscular little guy, transposed the last two words of "PRAY FOR THOSE WHO MISTREAT YOU," and in essence, totally changed the meaning. "PRAY FOR THOSE YOU MISTREAT!"