---
THE PRAYER CYCLE
"Let's pray for our sponsors! Mine is Linda!"
BLC had four Christmas parties this year: the 1st for the parents of the Sponsored Kids (SK), 2nd for the BLC kids, 3rd for the 3 church plants, and 4th for BLC teachers and staff.
After the SK parents gave their personal testimonies and heard the scripture message, it was time for prayer. "What are the needs of the sponsors of our children? How can we return the favor that they have provided an education for our kids?" 250 sponsors from around the world were lifted up to God's throne in heaven, for five areas:
1. God, please return to our sponsors 100-fold for their gifts of $20/month sponsorship.
2. Lord, please bless their families, that they be healthy, happy and holy.
3. Heavenly Father, please remind them to be on-time with their payments.
4. Jesus, please touch their hearts that they tell Pastor Paul in advance if they have to drop their sponsorship/s.
5. Holy spirit, please influence them to consider if they are able to add a second or third child to their present sponsorship/s.

Truly, the circle of blessing is being practiced as we pray for those who are praying for us!
---
BLC ENERGY FUND:
EVERY DAY AT BARNER LEARNING CENTER, WE SUPPLY TRANSPORTATION FOR NEARLY 312 STUDENTS. OUR BUSSES WERE BOUGHT WITH FUNDS SACRIFICIALLY & GENEROUSLY GIVEN BY FAITHFUL FRIENDS.
A CHURCH IN PENSYLVANIA, USA SENDS $100 EACH MONTH TO ASSIST WITH THE FUEL FOR THESE VEHICLES. HOWEVER, WE PAY $750 EACH MONTH FOR GAS.
WITH THE RECENT FUEL INCREASE, OUR ENERGY BILL FOR THE BUILDINGS ON CAMPUS HAS TRIPLED TO $800 PER MONTH.
MIGHT YOU BE WILLING TO ASSIST WITH THESE NEEDS ON A MONTHLY BASIS?
---
YOU KNOW YOU ARE A FILIPINO IF...
You eat rice for breakfast.

---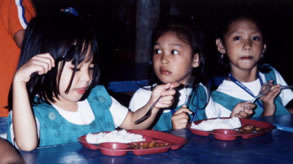 400 BLC STUDENTS AND STAFF RECEIVE FREE, HOT, NUTRITIOUS MEALS TWICE A MONTH

FOOD FOR THOUGHT
"There has GOT to be a way!
How will we feed 400 BLC students/staff for more than this twice a month, on just $140?" Two problems faced us: no food-no library. We're still lacking $20,000 to build our 3rd floor library, so the BLC bus drivers and janitors built eight 3-foot wide planters on the cement 2nd-floor roof, where the library is supposed to go. 12 rows of watermelons, carrots, beans, tomatoes, etc., were planted, to produce food for our BLC kids by Feb., 2006. For fertilizer, cages will house 6 chickens. Their dung will help the vegetables to grow. Truly, disappointments are often "his-appointments!" God wanted us to plant vegetables, so He didn't give us the funds to build our library yet. Thus the space where the library would be is now our 3rd floor garden. Vegetable soup, chop suey, and fresh vegetables will now keep our BLCers "bright eyed and bushy tailed", alert to do their very best in class.
---
BLC KID HOTLINE
Your sponsored child at Barner Learning Center would love to hear from you! If you'd like to communicate with him/her by email, please send any messages to:
---
DO YOU HAVE A WINTER PROJECT?
THESE ARE NEEDS THAT WE HAVE TO SUPPLY FOR OUR 2005 BLC CONSTRUCTION:
42 F1 Bulb Sets: $4 each
60 Desks: $11 each
Jeepney-bus: $7,000
82 Chairs: $6 each

Tools for LArts: $169
20 Cafe Tables: $28 each
Tables for L.Arts: $650
MusicShelves: $204
| | |
| --- | --- |
| | TEACHER RICHARD TEACHES MATH TO HIS ATTENTIVE FIFTH GRADE CLASS |
B-U-I-L-D
"Brothers and sisters, we should BUILD a church!"
Meeting in the Barner Learning Center gym for the past four years, our Faith Fellowship church has been saving $50 each month for our building fund. Yet the purchase of land seems oh, so far away! Recently a friend from Hong Kong agreed to send $1,000 (55,000 pesos) as a matching gift, when our congregation comes up with an equal amount. To challenge our congregation, I used the letters of the word "build": In the five Sundays of the month, they are to (voluntarily) give the following amount for each member of their family: adults and kids:
B- (1st Sunday)- Buy a "board foot" of lumber (15 pesos)
U- (2nd Sunday)- Unlimited Change-all change gotten in a week
I-..(3rd Sunday)- I miss a meal- Fast a meal, give the food price.
L- (4th Sunday)- Lay a brick- (6 pesos each)
D- (5th Sunday)- One Day's pay
---
To receive the BLC newsletter in the mail, send your name and address via email to
---
Printable PDF version of this newsletter
Archived Newsletters -- Return to homepage
Last edited August 22, 2012
Please write with comments or questions.
If you would like to be notified via email when the
next newsletter is published, please write.