---
JEHOVAH JIREH, MY PROVIDER
Placing my feet firmly on the dirt road, with water rushing up to my knees, I held tight on the arms of our neighbors. We saw the strength in numbers as we battled the current by forming a human chain to keep from being washed over the dirt road into the canal and downstream. "If I only had a pail to bail with, for when I make it back to the school!" Just then, strewn with the garbage of boards and debris that battered against my legs as it rushed through the current, a big blue bucket nudged my side. Quickly reaching out and grasping it, I breathed a little prayer, "Thanks, God!" Taking the "balde" (pail), I went to the BLC secretary's office, removing the muddy ankle-deep water.
"Huh?" What a time to turn the water on! Usually it would not seem strange that Rowence (BLC's maintenance man) washed his hands at night. But as the floodwaters rose to waist-deep, it seemed ironic that the faucet would be running to add more to the deluge! Our flash flood last night brought not only tons of water, but also many loving church members who helped to bail out, clean up mud, and move furniture to upper floors in the school. Our recent construction renovations made the damage minimal, yet in some areas the dirty water rose above the cement/steel guards and through the cracks & pipes.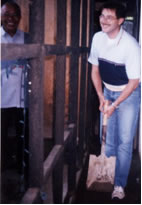 Paster Paul takes the first shovelful at BLC's groudbreaking for the new Susan Barner Christiansen 5th and 6th grade three-story building.
Four phases: 1) Demolition, 2) First Floor, 3) Raise Funds, 4) 2nd/3rd Floors
CAPTAIN'S LOG: PRINCIPAL ELVIE
Twenty hardcover little red notebooks have been distributed throughout the school. They are on teachers' desks, dashboards of BLC's school buses, and in the drawers of the secretaries. They are the "Captain's Log". Being BLC president, I nonetheless have a captain to answer to: God. Every day I bring the requests of the BLC staff before God's throne in heaven. Here is an excerpt from Elvie's log entry one day recently:
Interviewed 8 poor parents today, with the total of 17 children. Pleased to know that they're willing to be visited, involved in the church ministry. I'm just so excited to see God's hands working in their lives. Praying and believing that God will save these people. So thrilled, to hear and witness the "turn-around" of these people, like Juliet being won for the Lord. And she witnessed to her whole neighborhood that Jesus at BLC is indeed ALIVE. Her husband came with her and testified for the great change he had seen in the life of his wife. Praise be to God!
PROPER PRIORITIES
With a twinkle in her eye, and with sweat on his brow, they each responded to the hush in the sanctuary with a whispered, "I do." Looking down from my front row seat, I noticed that my Bible had disappeared from my lap and had been replaced by the couple's ring cushion! PJ, the ring bearer in our Nursery II teacher Joy's wedding, got bored and decided that reading my Bible was more interesting than holding that pearly-white cushion. So even though he wasn't the owner, he "traded" it! The Book wins over the ring!
---
A STUDENT'S GUARDIAN ANGEL
"I prayed for this child, and the Lord has granted me what I asked of him."– 1 Samuel 1:27
Paul,
I have received the picture and info on my sponsored child. I put his picture on my refrigerator where I can see it every day and keep Jeson in my prayers each day.
I'm glad my sponsorship is helping him to grow in the knowledge of Christ and to share the word of Christ with his parents.
-Kevin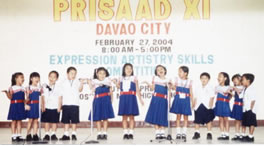 BLC won a bronze medal at the Davao Elocution Contest
---
For a printable version of this newsletter, click here.
Archived Newsletters -- Return to homepage
Last edited May 13, 2004
Please write with comments or questions.
If you would like to be notified via email when the
next newsletter is published, please write.