ROCK OF AGES
The noise of rocks dropping onto the metal roof of our Faith Fellowship Church was loud and distracting. Danrice, the son of a policeman in the church, ran outside and apprehended a ragged beggar boy who tried to escape with his buddies. Interrogated, he apologized for throwing the rocks.
As the policeman, deacon, church board and myself calmed the nerves of the culprit, Elvie explained "We love you and God loves you. But because you sin, you need to receive Jesus into your heart. We can repair the dents you put in the roof. But only Jesus can repair your soul. Then, like a fish, when returned to the water after being caught, we let him go and he disappeared.
---
SUPERNATURAL WARFARE
"The Lord is the strength of my life-
of whom shall I be afraid? – Psalm 27:1
Beads of perspiration grew on the muscular arms of one of our church members. It was not hot, yet a turmoil was boiling inside of his soul. Elvie and I placed our hands on him & his wife. "Oh God, " we cried, "Rescue this man from his enemies!" His boss had just threatened to murder him and leave his 4 children as orphans. Raising his arms in surrender to God, Rex leaned against the plywood wall. It began to shake. His body was trembling in fear. Something spiritual was happening here. The Holy Spirit was transforming Rex in to a man who trusts not in his own strength, but God's. With shirt drenched by his tears an hour later, a smile of relief came to his face as he thanked us for bringing him to victory through Jesus Christ.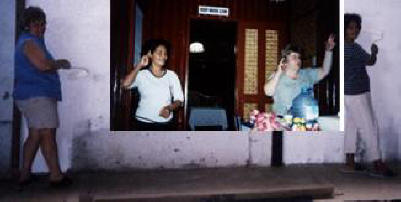 Our missions guest, Diana, paints the BLC gym wall
and teaches sign language for church.