God is Sovereign
"... acknowledge that the Most High is sovereign over the kingdoms of men..."-Daniel 4:25
"Yay! Elvie applied for a new re-entry permit in the USA!" It was April 10 in New York, and Elvie's permit was to expire the next day. Just in time, God provided.
It all started last November, when I had pulled PJ's passport and international documents from our permanent files so they could include his fingerprints. We cried out to the Lord, "Why?" when these papers disappeared, a few days later. God had a plan.
In February we finally had PJ's and Abby's new passports, etc., and my new Philippine visa. Yet while looking over Elvie's papers, I was shocked to see that her re-entry permit to the USA was about to expire. Last minute, God provided tickets to the USA, as this document can only be renewed inside the USA.
While there, Elvie spoke at a dozen or so churches, schools, etc., and shared our financial dilemma. Way back in November, we did not know that the owner of our school's property was going to move the final date of sale for the property up from Dec'02 to June '02. But God did. And in God's sovereign plan, he devised this way for the funds to be found...before June.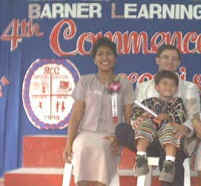 Elvie, Paul and PJ at BLC's forth commencement exercises.