"...You can say to this mountain, 'Move from here to there' and it will move. Nothing will be impossible for you"-MT 17:20
"Elvie, maybe I won't have to take a bath tonight before I sleep, since I am already soaked in sweat!"
On my way home from giving the final exam to my college students, I joined a revival service with Elvie. By the time we got back from bringing friends home, it was 11 pm.
At the house we were shocked that the 14 square meter truckload of river gravel we'd ordered for construction had been dumped right in the middle of the road, blocking traffic.
The three night construction workers helped us grab some shovels and move the mountain. Since the kids were asleep, the babysitter even came out and dug with her hands. By midnight we were all drenched in sweat...but the road was cleared!
Praise God that He continues to give us energy to carry out this exciting work. The third story of the new building already has its cement slab laid for the floor.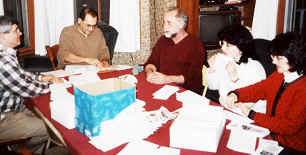 BLC'S world-renown circulation department in New York, USA: (L to R) Steve, Bud, John, Ginger and Sue.
"Train a child in the way he should go and when he is old he will not turn from it." Proverbs 22:6
BLC's theme Bible verse, prominently displayed on the new elementary wing's exterior wall.