GOD'S PRAYER WARRIORS
"Paul, you CAN'T go to Zamboanga!"
"Pastor Paul, this is your Godfather, Ben DeJesus. The staff of Ebenezer Bible College and Seminary, your wife's alma mater in Zamboanga City, is thrilled to invite you as speaker at our Mission's Conference."
After praying whether to accept this gracious invitation, we declined when our prayer supporters responded "with horror" that I had considered going to this area, near where Martin Burnham had been murdered. We value advice from you, our warriors.
Thank you especially for your prayers for Elvie's recent recuperation. During her 2-month absence the Kinder-2 class of Barner Learning Center designed Get Well cards, and had them hand-delivered to her parents' farm where Elvie was. She returned in time for her 35th birthday. 9/9.
DO YOU HAVE A SPRING PROJECT? HERE ARE A FEW NEEDS THAT WE HAVE AT BLC:
FLAGPOLE: $400
SCHOOL STORE: $500
KITCHEN:$2,500
CABINETS (6): $17 each
FILE CABINETS (3): $20 each
SCHOOL CLINIC: PAID!
SIDEWALK SECTIONS (33): $20 each
WANTED:
VOLUNTEER SPOKESMEN FOR BLC
Exhibiting at Missions Conferences is fun. Churches that are serious about missions normally welcome more exhibits. If God's calling you to fill this need, please ask for a promotion packet at
---
PRISONERS OF JESUS
"Often, a Christian's backsliding gets out of control and becomes a LANDSLIDE!"
The multi-murderer Chito Ruina was visited in maximum security Philippine Bilibid prison by an American missionary, & prayed to receive Jesus into his heart. Upon his release after 7 yrs' confinement, he became a pastor/singer.
A good friend of our school discipleship leader, Chito became the guest speaker at Barner Learning Center's Language Festival, and also during church that Sunday.
"We are all prisoners to sin," Chito challenged. "Romans 7 says we try to do good, but we are captives of sin. Don't think that you are the one exception, because Galatians 3:22 says that the whole world is sin's prisoners. But God calls us to be freed by a greater Master, Jesus.
"In Ephesians 3:1, the Apostle Paul proudly declares that he is in Jesus' jail! And there, he finds true freedom. Tell me, who is your jailer today? Drugs? Adultery? Lying? Give the keys of your handcuffs to Jesus. The old chains that bound you will fall off and you will be free!"
BLC Sponsorship Packets:
Of the 84 sponsored children in the school, 75 sponsorship packets have already been mailed.
If you are sponsoring a child and have not yet received your packet, thank you for your patience. We are lacking a few children's pictures, so yours should arrive by the end of October. Thank you for your patience.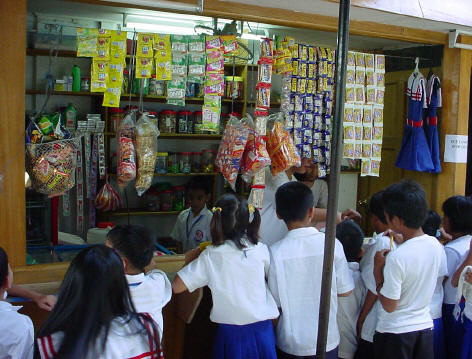 BLC Students visit the school canteen at lunch.
Parents can get praise tapes here too.
SURPRISE!
(Student Sponsorship Program)
Dear Paul and Elvie,
What a wonderful surprise to open the mailbox today and receive our sponsorship packet. We are thrilled to be sponsoring one of the children in the Philippines! Thank you so much for allowing us this privilege and for all the work that you both do to make this possible. Our "adopted" child has a birthday in just a few days and we would love to send him something. What would you advise us to do? Also when we send him letters is it okay to enclose stickers? We don't want to do anything that will cause trouble. Yet, we have such a desire to do something special for this child. We will thank you in advance for taking the time to answer these questions. Oh, one more. Will he be able to write us again? May God continue to bless you and the work that you do.
ANS:
Hi! Hey, thanks for the great message! Regarding gifts, there are 2 great ways (besides cards, letters and stickers, which are always acceptable) to wish him a Happy Birthday, Thanksgiving, Christmas New Year's, Easter, or whatever: Any financial gifts are divided among all the other children so that there is no jealousy. Because of this "Gift Fund", we are able to make Christmas last all year long, by regularly giving equal little gifts every few months to all the sponsored kids at the same time. On the other hand, if some little toy or item of clothing or other gift is mailed, he/she will receive it. Recently we received a check for $10 for a boy's birthday. Because this wasn't a Christmas gift, and was enough for a 2nd school uniform for the boy, that's what we got. Most of the kids have next to nothing, so the second uniform made both his mom and him happy, as it meant that she didn't have to wash the same one every day.
In Jesus, Paul, Elvie, PJ and Abigail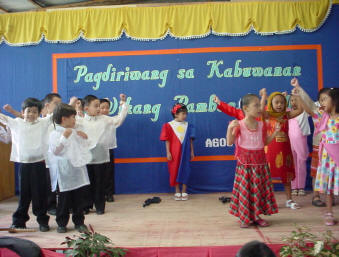 BLC students in a traditional Filipino native dance for BLC's language festival
PLANNING YOUR '03-04 CALENDAR?
It's been three years since our last furlough, and we're now planning on being in the USA from June'2003-April of 2004. Would you like for us to visit your church? Please contact Bud Barner for available times, at budbarner(at)juno. com.
"Because you have all the answers, I have all the questions."
-Our 5 yr old son PJ's response when I asked him why he keeps asking "Why...?".

"In the Bible, Titus comes after 1 & 2 Timothy!"
- My brother Tim's (my son Tim, "PJ"'s namesake) response when asked where he got the name Adam Titus for his son, born 8/30/02.
To receive the BLC newsletter in the mail, send your name and address via email to budbarner (at) juno.com
---
Archived Newsletters -- Return to homepage
Last edited November 30, 2002
Please write SteveB@boltonvt.com with comments or questions