HEALED AT BLC
Little Pershey is a cute, long-eyelashed pupil enrolled in one of our Nursery 2 classes for this school year 2000-2001.
Pershey's parents had sent her to special classes at her former school, since she was a deaf-mute (or so they thought).
When summer classes at Barner Learning Center began in April, Pershey was enrolled. As her teacher taught exciting Christian songs and Bible verses, Percy shocked everyone by singing along, clapping, and reciting verses.
Her parents were so overjoyed that they consider that God healed their little Pershey through BLC.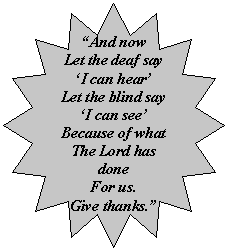 FROM UNKNOWN NEIGHBORS TO CLOSE FRIENDS
Borrowing a friend's car, Elvie and I were headed downtown for groceries. On the way Elvie noticed one of our neighbors walking, so we picked her up.
When she mentioned in the car that her husband is a carpenter, we asked if he could build needed additional desks and walls for the new school building. He began the work that evening!
A few days later his mother asked for prayer, due to a heart disease. We prayed for her and the next day she excitedly told us that her doctor was frustrated because he could not find any trace of the disease!
The family thus became interested in our faith, and decided to join our church plant.
Since this qualified them for pupil sponsorship, their son enrolled in the kinderschool. The day after enrollment, the child's whole family; cousins, grandparents, parents and kids, came over in gratitude to help clean up the property in preparation for school orientation.
Two days before our new school year's opening, it rained and rained. Since the housing company has dug up the drainage canals to prepare for better drainage, there was another flood. It was waist deep in some places, yet only up to our school's floor.
Thus when the carpenter's house was flooded, we agreed that they could store their household goods in the school overnight until the water subsided the next day.
In one week's time, the love of Jesus Christ, shinning through the staff of BLC, has turned unknown neighbors into close friends.
A Gift From God
This school year, I (Paul) am teaching at three different schools, to a total of over 150 students and pupils.
At one Bible college (GMBT), I volunteer as their sole evening teacher, in English as a second language, and also the Biblical book of Revelation. At another Bible college (DABC), is covered another course in Revelation. And at the kinderschool, I'm teaching over a hundred kids each week in computers.
Recently at the Korean college, it began raining during class. Since most roofs in the Philippines are made of corrugated tin, the pounding on the roof gets deafeningly loud when there is a downpour. Since two typhoons have hit Manila recently, we have been dumped on with rain.
We finally made it through class, and my voice was worn out from competing against the raindrops. As I shook the hands of the students leaving out the door, I found a hundred peso bill ($2.50) in my hand. I asked the student, "Thank you. What is this for?" "Your taxi" he replied. I was shocked, as a taxi from there to home only cost 30 pesos (75c).
Yet halfway home we saw that Laverna Hills was flooded again, and the taxi was unable to plunge beneath the depths at the entrance of the subdivision. So we had to go on a roundabout trip through three other towns to enter Laverna Hills through the back way.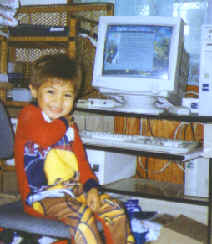 And the fare of the taxi?
105 pesos.
A gift from God.